Skibex was founded in 2018 in Chamonix with the goal of delivering the highest quality ski lessons in the valley. Awarded TripAdvisor's travellers' choice in 2022 and 2023, our team of 7 instructors is back this winter to teach skiing or snowboarding and guide you through your next adventures!
Everyone at Skibex is fully qualified for Ski and Snowboarding. We are all fluent in English and French, and for some of us, Spanish.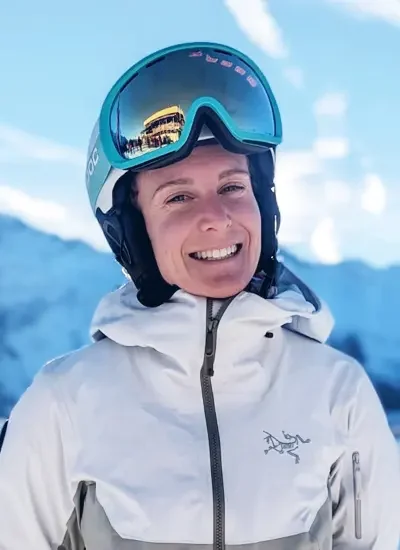 Charline is originally from Combloux, but she's skied all over the world and taught skiing in a variety of places like Thredbo in Australia, or Niseko in Japan. Today she splits her time between the mountains in the winter and the south coast of France in the summer.
Charline's approach to teaching combines her lifelong knowledge of the mountains with her experience as a yoga teacher and focuses on three principles: boosting self-confidence, bringing fulfillment, and using kindness.
Charline speaks French and English fluently
1
"The best and most amazing experience!! Charline is an incredible instructor. I call her the "Zen ski master instructor." I felt so comfortable with her & put all my trust in her. She guided me and made me feel safe. I am 41 years young skiing for the first time in the French Alps! I had the most incredible experience! I would highly recommend her and this company to anyone. For me- I will always remember this. Thank you Charline! Xx"
Kimberly  –  11/02/2023
2
3
4
5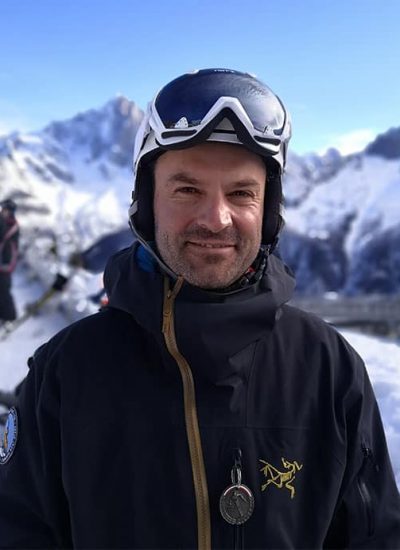 Gabriel is the most experienced instructor in the team with over 16 years of experience.
Before he started sharing his passion for skiing, Gabriel participated in the Olympic Games in Giant Slalom in Nagano, Japan in 1998 and flew helicopters! When the ski season ends Gabriel returns to Canterbury where he lives.

Gabriel's students love him because of his never ending patience and his intuitive way of teaching!

Gab speaks French, English, and Spanish fluently

1
"Gabriel thank you so much for this day. If there was only one thing negative it would be that I became even more angry with the previous instructors that I have had from other places—they simply suck in comparison! You gave so much attention to every aspect of my wife's and my skiing, and explaining so well. One could really see that you liked teaching. Amazing."

Abbas 05/01/2022

2
3
4
5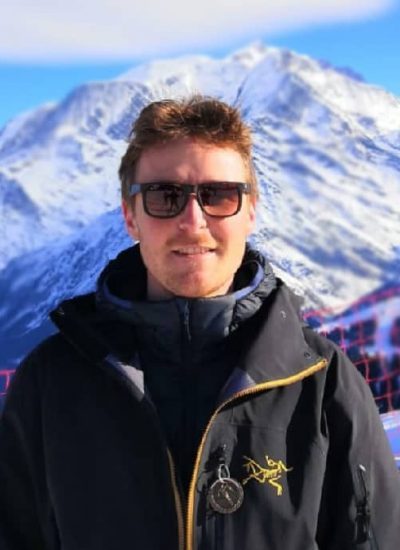 Arthur comes from a long lineage of world-class skiers and started skiing as soon as he could walk. In the summertime, Arthur works as a builder for the family business, and you'll either find him working perched on a roof or immersed in tree-felling.
Arthur is an enthusiastic teacher who connects easily with his students and is known for bringing the best out of them.
Arthur speaks French and English fluently
1
"I brought my wife and 2 boys to CHAMONIX for a few days. I have some ski experience but they have never been on skis. Jorick set us up with Arthur for a day of private lessons for the three of them and it was great! He was fluent in English and very patient with my beginners. He is also very kind and helpful. If we manage another trip next year I will definitely try to get Arthur to teach again."
George 04/2019
2
3
4
5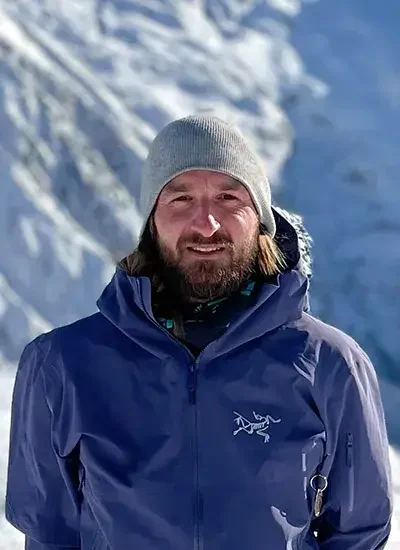 Theo is both a qualified ski instructor and a Montessori teacher, which means he has a wealth of experience working with kids. However, don't let his composed exterior fool you – Theo is a force to be reckoned with on a snowboard or skis. When the winter season winds down, you'll find Theo chasing big waves in another part of the world!

Theo is a patient teacher who knows how to make learning fun and is appreciated by both children and adults.

Theo speaks French, English, and Spanish fluently

1
"We booked a private ski lesson with Skibex and are very happy with our first skiing experience . Our daughter who just turned 4 had such a great time and didn't want to stop even though she was already tired after 3hrs of skiing. Theo was had so much patience teaching us and making so much fun. It's was an unforgettable fun family activity thanks to Theo!"

Lorelei 15/01/2022

2
3
4
5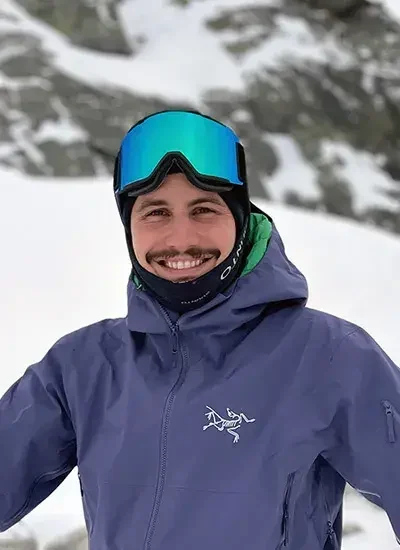 Pierre is a multi-talented Chamonix native who combines his job as an architect with his other passions: skiing,tennis and road biking. As soon as winter arrives, Pierre transforms into your friendly, knowledgeable ski and snowboard instructor and will show you around to all the best spots.
Pierre's calm and cheerful nature shines through during lessons, creating a relaxed and enjoyable atmosphere for his students. He's a patient instructor, always ready to provide guidance and support so that his students can focus on building their skills and confidence.
Pierre speaks French and English fluently
1
"Amazing lesson with Pierre – he catered very well to a group of 4 with varying abilities. He took us down slopes, progressing the difficulty at a good pace and explaining the fundamentals of skiing."

Harsimar S  –  20/01/2023
2
3
4
5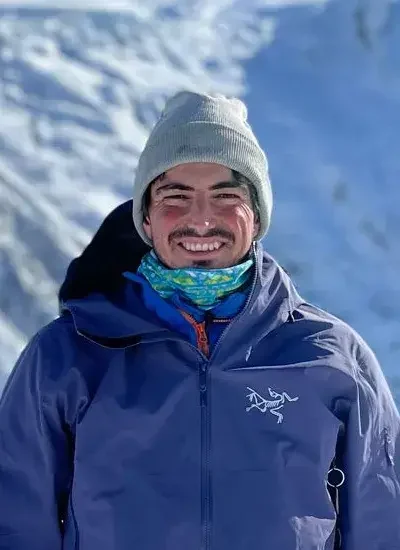 Charlie's the real deal! He's a certified sports teacher, tennis ace, personal trainer, and a downright awesome ski and snowboard instructor. He's the person to ask for anything about Les Houches, and he's also really knowledgeable about alpine racing.
Charlie's teaching style is characterised by his kindness, patience, and contagious enthusiasm, which his students greatly appreciate.

Charlie speaks French and English fluently
1
"We had the best instructor with Charlie. He was patient, supportive and so knowledgeable. We went for private lessons as a family and he was incredible at making sure we all got the right about of attention. Our skiing abilities were all different but he still smashed it and got us all out on the slopes together.
First class! Thank you Charlie"

Liz  –  03/03/2023
2
3
4
5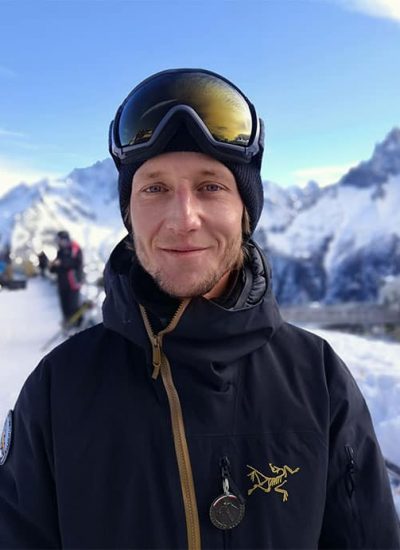 Jorick. Over at Skibex, we've been friends for one, two, and sometimes even nearly three decades, which made it easy to write about everyone else on the team. But when it comes to writing about oneself, it's a whole different game.

When winter sets in, you'll find me on skis day in, day out – either teaching or exploring the slopes with friends. And if skiing isn't on the agenda, I'm likely climbing, immersed in a good read, or working hard to make sure your ski lessons go smoothly!
1
"Jorick was an amazing instructor he had a hard task taking us on! I had not skied for 17 years, my youngest Freddie had never skied and my eldest Jack had only skied once with the school. On our first day Jo spent two hours and at the end of the session we were all confident and ready for the mountain. At the end of our second lesson Jack completed a red and Freddie was skiing difficult blues. Highly recommend, he made our holiday"

Jane F. – 05/04/2018
2
3
4
5